Links:https://www.wfc13.com/v2/index.php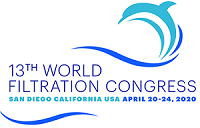 13th World Filtration Congress
The first World Filtration Congress (WFC), held in 1974, was informally coordinated by a number of individual organizations, each acting independently. Subsequent congresses are held every 3 to 4 years and rotate among different member countries on a competitive basis. In 1990, International Delegates on Filtration (INDEFI) was formally established as an organization to coordinate and formalize organizing future WFCs.
The next WFC13 will be hosted by the American Filtration and Separations Society to be held in San Diego, CA, USA, 20-24, September, 2021. 

Every four years, more than 3,000 filtration and separations professionals from all over the world gather at the industry's preeminent event: World Filtration Congress. The American Filtration and Separations Society is delighted to host the 2020 Congress, which opens one year from tomorrow in San Diego, California.
Previous
Back to List
Next